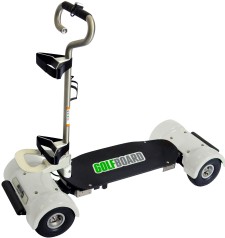 Event
-
updated: Dec 6, 2016
Crowd Invest Summit is a crowdfunding conference and expo with a mission to educate and bring together accredited and non-accredited investors with startups, issuers, and real estate investment opportunities.
GolfBoard will be featured at the upcoming CrowdInvest Summit on December 7th & 8th at the Los Angeles Convention Center, where investors will be able to meet with Sol Boards' CEO John Wildman, and other members of its Senior Management team, to see GolfBoard's new offerings, including their 2017 model GolfBoard, plus the new SportsBoard, ResortBoard, and DualBag Board models.
With over 2,000 GolfBoards across 250 courses worldwide, and nearly $10,000,000 in sales revenue, GolfBoard has proven its broad popularity and ability to revolutionize the golf industry.
​Sol Boards Inc., one of the golf industry's hottest start-ups, and maker of the GolfBoard – is providing a limited opportunity to make an early stage investment through its crowdfunding campaign at https://www.startengine.com/startup/golfboard. The GolfBoard offering at StartEngine now allows accredited and non-accredited investors to participate in one of the best investments in golf.
Share: