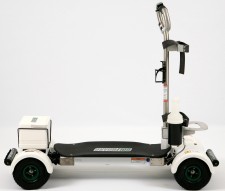 Bend, Oregon, April 3, 2017 (Newswire.com) - ​​​​Sol Boards, Inc. of Bend, Oregon, has entered into a long-term financing agreement with Golf Capital Group (GCG) of Oklahoma City, Oklahoma, to fund the rapid expansion of the Company's managed fleet rental program. Through its new relationship with GCG, Sol Boards will significantly increase the size of its company-owned demo fleet from approximately 100 boards today to as many as 400 boards by year-end 2017.
GolfBoard has already deployed over 2,000 boards to over 250 courses worldwide. Many of these courses initially participated in a 60-day GolfBoard trial prior to making the decision to lease or purchase. Consequently, this potential 300% increase in company owned trial boards is expected to substantially increase the volume of follow-on purchases in the years ahead.
This new rental fleet financing agreement with GCG will also help accelerate the rapid adoption of the company's new ResortBoard offering. By leveraging GolfBoard's proprietary technology, the company expects to quickly penetrate the $15BN worldwide electric scooter marketplace.
The massive size of this adjacent market creates the potential for the popularity of the ResortBoard to eventually exceed its already highly successful GolfBoard.
"This multi-year financing agreement with Golf Capital Group will enable the company to accelerate an important growth engine by allowing significantly more golf courses and resorts to try our popular new offering," said John Wildman, GolfBoard Chairman and CEO. "Our company's growing demo fleet will also provide high-margin recurring revenue, which we expect to contribute millions of dollars to the company's bottom line over the next few years."
As part of this financing agreement, Golf Capital Group has the non-exclusive rights to develop ResortBoard rental centers throughout the southeastern US. These "Surf the Earth" shops in Oklahoma, Texas, Florida, and other southeast states will provide a valuable brick and mortar footprint, as well as further accelerate the company's rapid growth.
Sol Boards, Inc. is now completing a second-round equity capital raise through its ongoing 506(c) offering which is being extended through Friday, April 7, 2017. The company has already raised approximately $1.6M so far this year, and anticipates reaching $2M by the close of the current offering.
For information on how to become a Sol Boards, Inc. shareholder and support the expansion of its revolutionary GolfBoard offering, as well as a global transformation in personal transportation, go to the company's fundraising campaign page at https://www.startengine.com/startup/golfboard-2 .
About GolfBoard
Conceived by Bally Total Fitness Founder Don Wildman, and legendary big wave surfer Laird Hamilton, GolfBoarding is an entirely new way to experience the game of golf. The four-wheel drive, lithium ion powered electric board allows users to turn by simply transferring their body weight as if they were surfing or snowboarding. GolfBoards are highly durable and built with a safety-first mantra and are now available in the US, Canada, United United Arab Emirates, Switzerland and Indonesia, with distributors in the UK, Australia, Mexico, Spain, France, and the Dominican Republic.
ABOUT GOLF CAPITAL GROUP
The newly formed Golf Capital Group is committed to supporting high-growth-potential companies in the golf marketplace. With extensive experience providing seed capital and asset-based loans in other industries, the senior management team at Golf Capital Group is directing their talents and resources to mentor innovative product offerings that will enhance the game of golf.
CONTACT:
John Wildman, Chairman and CEO
John@golfboard.com
888-328-2841 x709
www.golfboard.com
Source: SolBoards, Inc., GolfBoard
Share: