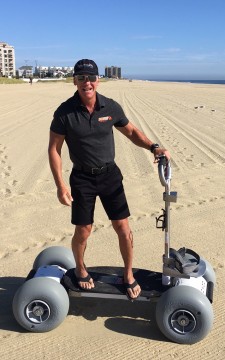 GolfBoard Adjacent Offerings Targeting $15BN Marketplace. Last Chance to Invest at $1.25/share.
BEND, Ore., December 13, 2017 (Newswire.com) - Positioned as the next Facebook or Apple, Nasdaq.com StreetAuthority's Joseph Hogue predicts Sol Boards Inc (the maker of GolfBoard) has the potential to "return 1,000% or more." "The industry's first innovation in 85 years", the GolfBoard has now generated over $12M in sales. With the recent introduction of the ResortBoard, and soon to come BeachBoard, the company will leverage its proprietary technology to penetrate the $15 billion electric scooter marketplace. With its highly differentiated product offerings, Sol Board Inc is touted as a startup with no competition, that "can take fast market share in a multi-billion dollar industry… that's going to reward early investors."
Strong early stage investor support made Sol Boards' crowdfunding landing page (at Fundable.com) the most visited ever. Having successfully raised over $1.7M, Sol Boards Inc has now partnered with Start Engine to offer accredited investors the opportunity to purchase its stock at a price of just $1.25 per share. With only 200,000 shares remaining, and this offering closing December 31st 2017, this is the last chance to subscribe to the company's 506 C offering at the original offering stock price.
With nearly 2,500 GolfBoards on over 275 golf courses worldwide, Sol Boards projects deploying another 2,000+ GolfBoards in 2018. To learn more about the company's business plan, plus view financial statements, projections, and other exhibits, go to https://www.startengine.com/golfboard-2.
About Sol Boards, Inc.
Sol Boards, Inc. of Bend, Oregon, makers of GolfBoard, has created a product for golf that is disrupting the golf experience without changing the traditions of the game. Adding a whole new level of fun and excitement to every round of golf played, GolfBoard has taken golf in a whole new direction – speeding up the game and attracting a younger demographic. Now Sol Boards is branching out into adjacent personal mobility markets with the ResortBoard, SportsBoard, and BeachBoard. Visit https://www.startengine.com/golfboard-2 for more information.
Source: GolfBoard, Inc
Share: