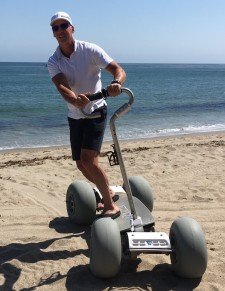 GolfBoard 506(c) Offering Now Live
BEND, Ore., October 16, 2018 (Newswire.com) - Sol Boards, Inc., makers of the original GolfBoard, has announced the re-opening of their 506(c) investment opportunity.
GolfBoard now has over 100,000 registered riders, has attracted thousands of new golfers to the game, and generated nearly 1,000,000 rounds played. The worldwide demand for GolfBoard continues to expand, as courses increasingly adopt "GolfBoarding" to attract millennials, increase the speed of the game, grow rounds played and drive revenue. GolfBoard continues to innovate and expand their golf offerings with the new high performance and more versatile GolfBoard Pro, and new Dual-Bag board for courses with caddy programs.
Concurrently, GolfBoard is leveraging their patented technology, superior customer experience and global brand awareness to drive their ResortBoard and BeachBoard offerings. Positioned to capitalize on the rapidly growing interest in alternative transportation devices, the all-wheel drive ResortBoard is a safer, more durable, and more capable alternative to Segways and electric scooters. The new and unique BeachBoard is also highly differentiated with high-profile balloon tires capable of traversing sandy terrain and delighting customers who want to "Surf the Earth."
GolfBoard (Sol Boards, Inc.) is currently seeking funding to build an online reservation and billing system, as well as grow their Company-owned fleet of boards, creating high margin recurring revenue and rapidly increasing market penetration by offering rental fleets with no upfront costs. These rental boards dramatically improve course and resort adoption, while generating a profitable stream of recurring revenue for the Company.
Four years in, GolfBoard is still at the early stages of their business story. Interested investors can learn more by clicking here. The company believes this is an opportunity to revolutionize personal transportation.
Source: Sol Boards, Inc.
Share: