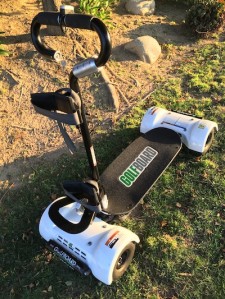 Participants to Surf The Earth at three of the area's premiere golf facilities - We-Ko-Pa, Grayhawk, and Troon North Golf Courses
Scottsdale, AZ, December 6, 2016 (Newswire.com) - ​Many GolfBoard fans will have their first "Surf The Earth" experience at the Golf Digest Gauntlet Tournament during Scottsdale Golf Week December 7th-11th, where participants will be able to ride GolfBoards on three of Scottsdale's premier courses. New riders will receive personal instruction from GolfBoard President Jeff Dowell, and other brand ambassadors who will provide hands-on hints and tips for how to enjoy the terrain in an entirely new way.
"This is our third event partnering with Golf Digest to provide tournament players a unique golf experience," says Jeff Dowell President of GolfBoard. "The response is always overwhelmingly favorable. Golfers of all ages and athletic abilities quickly discover how easy it is to GolfBoard, with many never wanting to go back to inactively riding in a cart. Golf Digest events like the Gauntlet at Scottsdale Golf Week greatly help expand the reach and visibility of the GolfBoard brand."
"We are thrilled to have GolfBoard join us in Scottsdale for the inaugural Gauntlet Tournament," said Luan Pham, Head of Marketing for Condé Nast/Golf Digest. "Since its introduction in 2014, GolfBoard has served as an integral partner in helping Golf Digest elevate our tournament experiences. Players at all skill levels and age ranges love riding the GolfBoards and request their presence at Golf Digest events. Needless to say, we are all-in on the 'Surf-the-Earth' revolution."
Applauded as the integral game growth catalyst by attracting much desired millennials, GolfBoard is a proven product widely touted as the "future of golf". Below are a few of the accolades and milestones GolfBoard has achieved since its founding:
•      Winner of the coveted Best New Product for Golf Award by the PGA of America
•      Winner of the prestigious Golf Digest 2016 Best Club Transport Editor's Choice
•      Featured in the Wall Street Journal, CNN, CNBC, Fox Business, CBS This Morning, Golf Channel and countless other national and regional media outlets
•      Over 40 million media impressions with GolfBoard's viral videos becoming social media sensations
•      Hundreds of thousands of GolfBoard rounds played by enthusiasts of all ages around the globe
About GolfBoard
Conceived by Bally Total Fitness Founder Don Wildman, and legendary big wave surfer Laird Hamilton, GolfBoarding is an entirely new way to experience the game of golf. The four-wheel drive, Li-ion powered electric board allows users to turn by simply transferring their body weight as if they were surfing or snowboarding.  GolfBoards are durable and built with a safety-first, user-friendly mantra to provide golfers a more active and engaging alternative to passively riding in a cart.
GolfBoard is now available at 250 courses in the US, Canada, Mexico, United Kingdom, United Arab Emirates and Indonesia, and has distributors in Switzerland and Australia. There are nearly 2,000 GolfBoards currently in service, and Sol Boards Inc. is expecting to nearly double its global footprint by the end of 2017. 
CONTACT:
Jeff Dowell, President
Jeff@golfboard.com
888-328-2841 x701
www.golfboard.com
Source: GolfBoard